Diclofenac Sodium Injection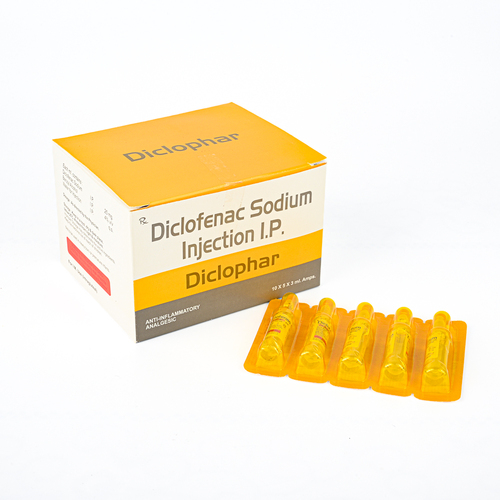 Diclofenac Sodium Injection
Product Description
Diclofenac Sodium Injection belongs to class of non-steroidal anti-inflammatory drugs and is prescribed for providing relief from pain caused due to arthritis & ankylosing spondylitis. It is administered via intravenous route and is known to show fast mode of action. This injection works by blocking activity of COX 2 enzyme which is responsible for synthesis of prostaglandins causing pain & inflammation. Active drugs used in its formulation is known to have chemical formula C14H10Cl2NNaO2 with molar mass of 318.129 g/mol. Diclofenac Sodium Injection shows more than 99% of protein binding ability with metabolism with help of CYP2C9 and elimination half life of 1.2 to 2 hours.

Diclofenac Sodium Injection

DDiclofenac Sodium Injection is a non-steroidal compound with antirheumatic, anti-inflammatory, analgesic and antipyretic properties.
In vitro its active substance strongly inhibits prostaglandin synthase and also has an inhibitory effect on platelet aggregation.
| | | |
| --- | --- | --- |
| Item | Brand Name | Packing |
| Diclofenac Sodium Injection | Diclophar | 50X3ml. |
| Diclofenac Sodium Injection | Diclophar-AQ | 50X1ml. |
Technical specification

| | |
| --- | --- |
| Brand | Diclophar |
| Composition | Diclofenac Sodium |
| Form of Medicine | Injection |
| Packing Type | Ampoule |
| Packaging Size | 10X5X3 ml |
| Medicine Type | Allopathic |