Ondansetron Injection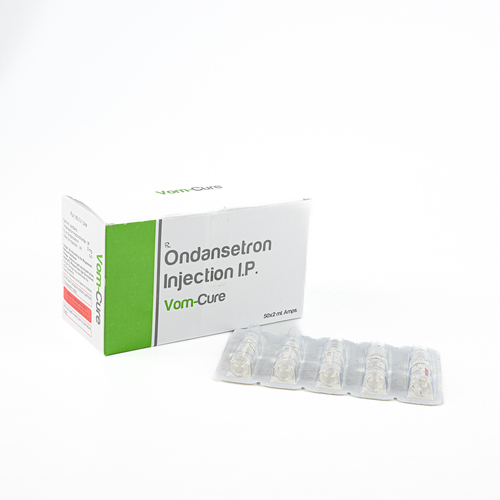 Ondansetron Injection
Price And Quantity
Product Specifications
Product Description
Ondansetron Injection is prescribed to be administered via intravenous route for treatment of nausea & vomiting caused due to chemotherapy or surgery. Ondansetron is known to have chemical formula C18H19N3O with molar mass of 293.4 g/mol and bioavailability of around 60%. Upon administration, it gets metabolized in liver with help of CYP3A4, CYP1A2, & CYP2D6 with protein binding ability of 70 to 76%. Ondansetron Injection is a serotonin 5-HT3 receptor antagonist which is also indicated for treating gastroenteritis. It is known to show elimination half life of about 5.7 hours with excretion via kidney.

Ondansetron Injection 2ml

Ondansetron comes as a solution (liquid) to be injected intravenously (into a vein) or intramuscularly (into a muscle) by a health care provider in a hospital or clinic.
Ondansetron injection is used to prevent nausea and vomiting caused by cancer chemotherapy and surgery.
It works by blocking the action of serotonin, a natural substance that may cause nausea and vomiting.
| | | |
| --- | --- | --- |
| Item | Brand Name | Packing |
| Ondansetron Injection | Vom-Cure | 50X2ml |
Product details
| | |
| --- | --- |
| Brand | Vom-Cure |
| Packaging Size | 50X2 ml |
| Packaging Type | Ampoule |
| Product Type | Finished Product |
| Dosage Form | Injection |
| Composition | Ondansetron |