Ranitidine Injection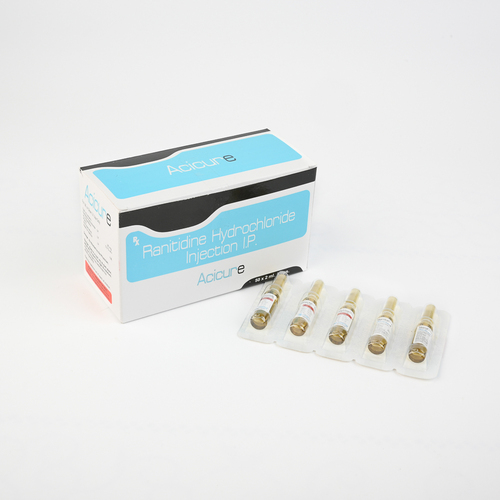 Ranitidine Injection
Product Description
Ranitidine Injection is reversible inhibitor of histamine H2 receptors present on gastric parietal cells. It is indicated for providing relief from acidity, indigestion, & heartburn caused due to production of excessive acid in stomach. This injection is administered via intravenous route for treatment of GERD, Zollinger-Ellison syndrome, and peptic ulcer disease. It shows only 15% of protein binding ability and gets metabolized in liver by FMO3. Ranitidine Injection works by blocking histamine activity and is said to be safe for use during pregnancy. Ranitidine has molecular formula C13H22N4O3S with molar mass of 314.4 g/mol.
Acicure Injection 2ml

Acicure is a histamine H2-receptor antagonist that inhibits stomach acid production.
It is commonly used in treatment of peptic ulcer disease and gastroesophageal reflux disease.
Acicure is also used alongside fexofenadine and other antihistamines for the treatment of skin conditions such as hives.
| | | |
| --- | --- | --- |
| Item | Brand Name | Packing |
| Acicure | Acicure | 50 X 2ml,10X2 ml |
Product details
| | |
| --- | --- |
| Brand | Acicure |
| Composition | Ranitidine |
| Form | Injection |
| Grade Standard | Medicine Grade |
| Packaging Size | 10X2 ml |
| Medicine Type | Allopathic |