Sodium Bicarbonate 25ml injection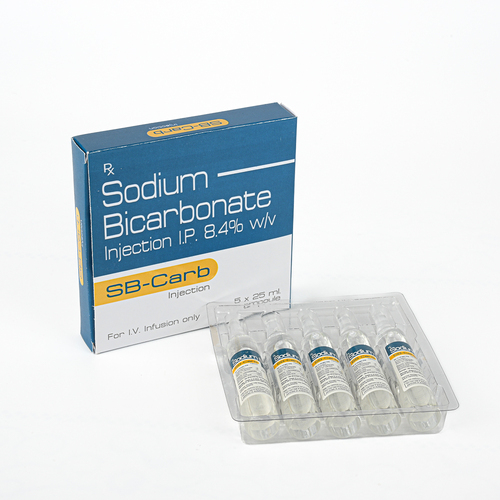 Sodium Bicarbonate 25ml injection
Product Description
Sodium Bicarbonate 25ml Injection is used as antacid for treatment of heartburn & acid indigestion. It is administered via intravenous route by a trained physician or doctor. This injection is also prescribed for treating acidosis and for hyperkalemia. It is known to have ability to transport potassium ions back to cells for treating acidosis. Sodium Bicarbonate 25ml Injection is also indicated for relieving severe diarrhea which is characterized by loss of HCO3from body. It is said to be highly effective in nature and assures no adverse reactions if administered under prescription.

Sodium Bicarbonate Injeciton IP 25ml.

Sodium Bicarbonate Injection, is indicated in the treatment of metabolic acidosis which may occur in severe renal disease, uncontrolled diabetes, circulatory insufficiency due to shock or severe dehydration, extracorporeal circulation of blood, cardiac arrest and severe primary lactic acidosis.
Sodium bicarbonate is further indicated in the treatment of certain drug intoxications, including (where dissociation of the protein complex is desired), in poisoning by salicylates or hemolytic reactions requiring alkalinization of the urine to diminish nephrotoxicity of hemoglobin and its breakdown products.
Sodium bicarbonate also is indicated in severe diarrhea which is often accompanied by a significant loss of bicarbonate.
| | | |
| --- | --- | --- |
| Item | Brand Name | Packing |
| Sodium Bicarbonate Injection | Carbo Cure | 25X25ml |
Product details
| | |
| --- | --- |
| Medicine Type | Allopathic |
| Packaging Size | 5X25 ml |
| Product Type | Finished Product |
| Brand | Carbo Cure |
| Form of Medicine | Injection |
| Composition | Sodium Bicarbonate |
Contact Us
Near Govt. High School, Garha, Jalandhar, Punjab, 144022, India
Phone :08037303733