Sodium Bicarbonate Injection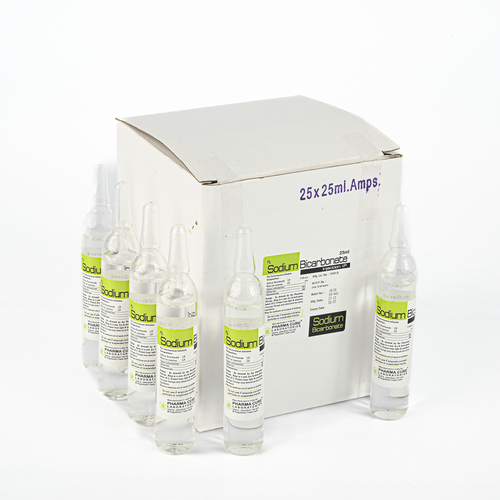 Sodium Bicarbonate Injection
Product Description
Sodium Bicarbonate Injection is most commonly injected for treatment of heartburn & indigestion caused due to excessive production of gastric acid. Administered via intravenous route, it is said to be perfect for acidosis and for maintaining normal bicarbonate ions in blood. Active compound present in this injection is known to have chemical formula NaHCO3 with molar mass of 84.0066 g/mol. It is also indicated for uncontrolled diabetes, anoxia, & circulatory insufficiency. Sodium Bicarbonate Injection contains 5% of active compound in water for injection and is packed in properly sealed vials in order to eliminate chances of contamination.

Sodium Bicarbonate Injection IP 10ml., 25ml.

Sodium Bicarbonate Injection, is indicated in the treatment of metabolic acidosis which may occur in severe renal disease, uncontrolled diabetes, circulatory insufficiency due to shock or severe dehydration, extracorporeal circulation of blood, cardiac arrest and severe primary lactic acidosis.
Sodium Bicarbonate is further indicated in the treatment of certain drug intoxications, including (where dissociation of the -protein complex is desired), in poisoning by salicylates or methylalcohol and in hemolytic reactions requiring alkalinization of the urine to diminish nephrotoxicity of hemoglobin and its breakdown products.
Sodium Bicarbonate also is indicated in severe diarrhea which is often accompanied by a significant loss of bicarbonate.
| | | |
| --- | --- | --- |
| Item | Brand Name | Packing |
| Sodium Bicarbonate Injection | -- | 50X10ml, 25X25ml |
| Sodium Bicarbonate Injection | -- | 25X25ml |
Technical specification
| | |
| --- | --- |
| Composition | 7.5% w/v |
| Medicine Type | Allopathic |
| Packaging Size | 50X10 ml, 25X25 ml |
| Type | Injection |
Contact Us
Near Govt. High School, Garha, Jalandhar, Punjab, 144022, India
Phone :+918037303733