Vitamin C, Vitamin B12, Folic Acid and Niacinamide Injection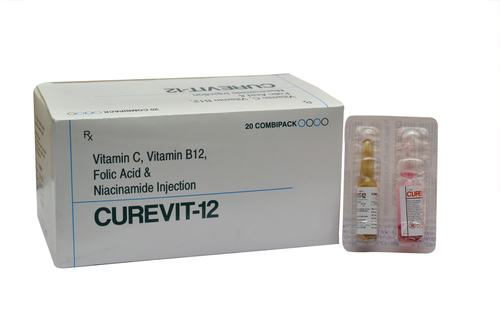 Vitamin C, Vitamin B12, Folic Acid and Niacinamide Injection
Product Description
Trade Name Eldervit-12
Curevit-12 is a combination of vitamins endowed with a particular hepato-protective activity in an optimal ratio so as to obtain the maximum therapeutic synergy. It also acts at the level of bone marrow to stimulate erythropoiesis.
Vitamin B12 has a complex biological activity and takes part in protein synthesis particularly in neuronal and hepatic tissues.
Folic acid, besides being a haematinic factor, has a hepatic protective action. Whereas Niacinamide is known as enzymatic activator of biochemical cell processes. Vitamin C which is contained in a separate ampoule, when mixed with vitamin B12,Folic acid and Niacinamide, has a unique activity in the metabolic cycle which is necessary to the cellular structure.
| | | |
| --- | --- | --- |
| Item | Brand Name | Packing |
| Injection of Vitamin C and B12 | Curevit 12 | 20 Combi Packs |
Technical specification

| | |
| --- | --- |
| Gender | Women |
| Application | Vitamin Deficiency |
Product details
| | |
| --- | --- |
| Manufacturer Name | Pharma Cure Laboratories |
| Form | Injection |
| Prescription/Non prescription | Prescription |
| Application | Vitamin Deficiency |
| Brand | Curevit-12 |
| Packaging Size | 20 Combo Pack |
| Composition | Vitamin C,B12,Folic Acid and Niacinamide |
Contact Us
Near Govt. High School, Garha, Jalandhar, Punjab, 144022, India
Phone :+918037303733